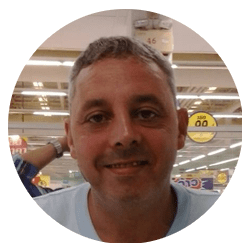 Hi, Its Anthony Hayes here, creator of this blog.
Thanks for stopping by, I hope you will like the content and take away some actionable tips that you will implement on your online marketing journey.
We are still in the moving the site from anthonyhayes.me over to the new TLD anthonyhayes.online.
So it may still be a bit rough around the edges with design and structure for a little while but we are tweaking and fixing stuff as and when we get time.
This move may take several weeks and be a gradual process, as the reason for moving it was mainly due to not starting the previous site off properly, in fact I really created it for my own thoughts on marketing as a product creator and it ended up more of a blog with traffic.
So after a few issues with the old blog being hacked, malware issues after being hacked, google console warnings, dropped rankings because of warnings, fixing malware and looking at some of the old content that I really don't want anymore, I decided that it's best to start fresh and bring the best content over here and redirect the rest of the old site to the appropriate posts on this new blog.
This also allows me the opportunity to take a new direction with the new blog content to be a better fit in terms of stuff I am doing more at the present time with my marketing and business.
The previous blog was very heavily SEO orientated content, this was in line with the tools, services, info products and software that I had been working on for years, but there will be some differences with content going forward to be focused more on traffic & growth which covers multiple traffic sources such as paid traffic, social traffic etc too and not just SEO, and also with list building, money making case studies as an affiliate and email marketer and a lot of info about product creation, launches and even launch promos.
As a thank you for stopping by…
I would like to invite you to attend the first 2 webinars from my up coming live course which I will be starting from Sunday, 2nd July 2017 where i will be starting from scratch (not using my current email list or products) with the goal of building a 5 figure monthly income within 12 weeks.
The course will be named "Zero To 5 Figure Per Month (Project 66)" and it will be a weekly webinar series detailing everything I am doing and reporting on the results each week to go from having no list, no products to building an income of 5 figures per month within those 12 weeks.
This will be a lot of fun, this is exactly the type of courses that I really enjoy doing and I can engage with the audience.
It's also something I have wanted to do for a long time, and… As I feel the desire to start everything from fresh, including the new blog and direction of the training, products and activities that I will be doing from this point forward this is a great time to be doing this live course, and hopefully provide some genuine help and insights to experienced and inexperienced marketers alike at the same time.
There will be 12 webinars in total and if you want to stay on for the remainder of the course you can upgrade any time up until the end of the 2nd webinar, where I will have generated income and started building a list by that time.
Click Here To Register For The Webinars