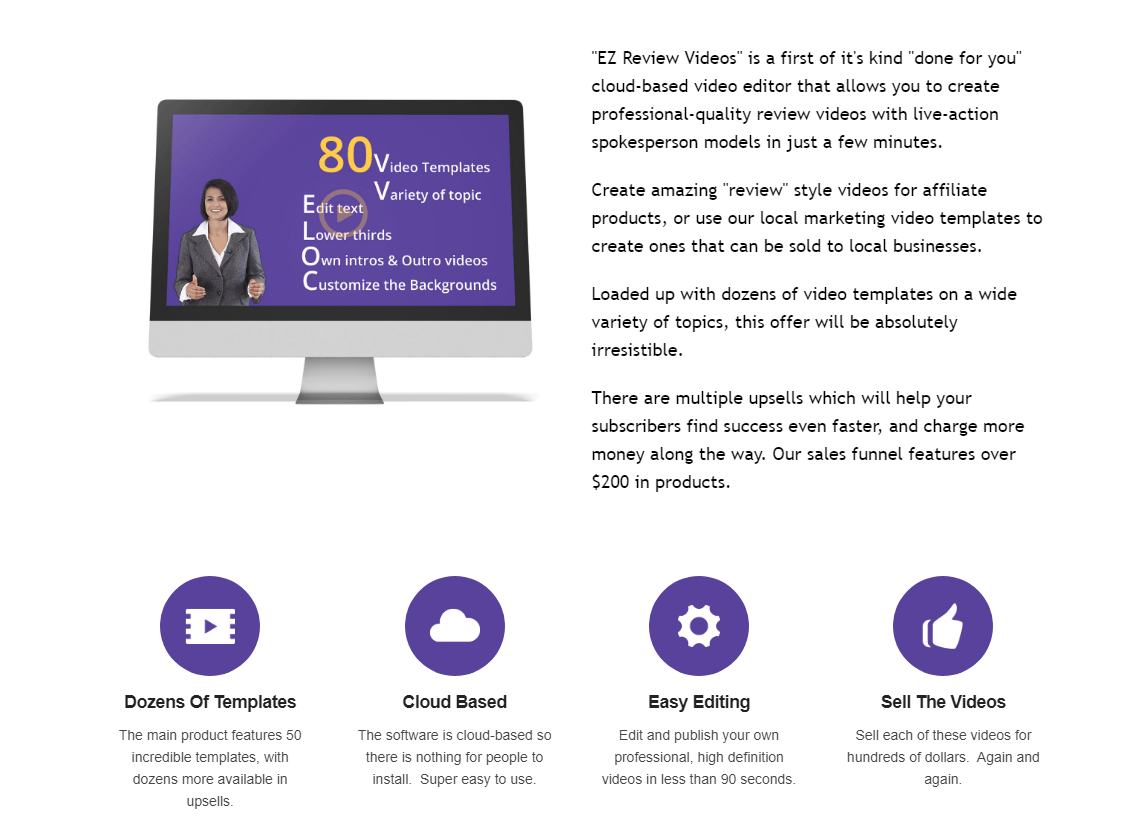 [review]
A few years back i did a webinar for a great web app that had pre made spokesperson templates that you just needed to edit the text to make instant professional looking videos in minutes and they had a big bunch of niches and local business sectors to choose from.
I thought it was a great idea at the time but the pricing was annual so it was kinda hard to convert, many folks stay away from recurring and the annual aspect was probably a huge turn off.
So it was just a matter of time before we started to see similar products being created and launched in Jvzoo at one time low cost, and we have a product that does the same thing that i am reviewing today.
EZ Review Videos is a new software from Matt Bush and it offers you a cloud based solution that makes adding spokespersons to any other videos a breeze. This means you'll be able to easily add that "human" factor and create instant credibility in your videos in a matter of SECONDS!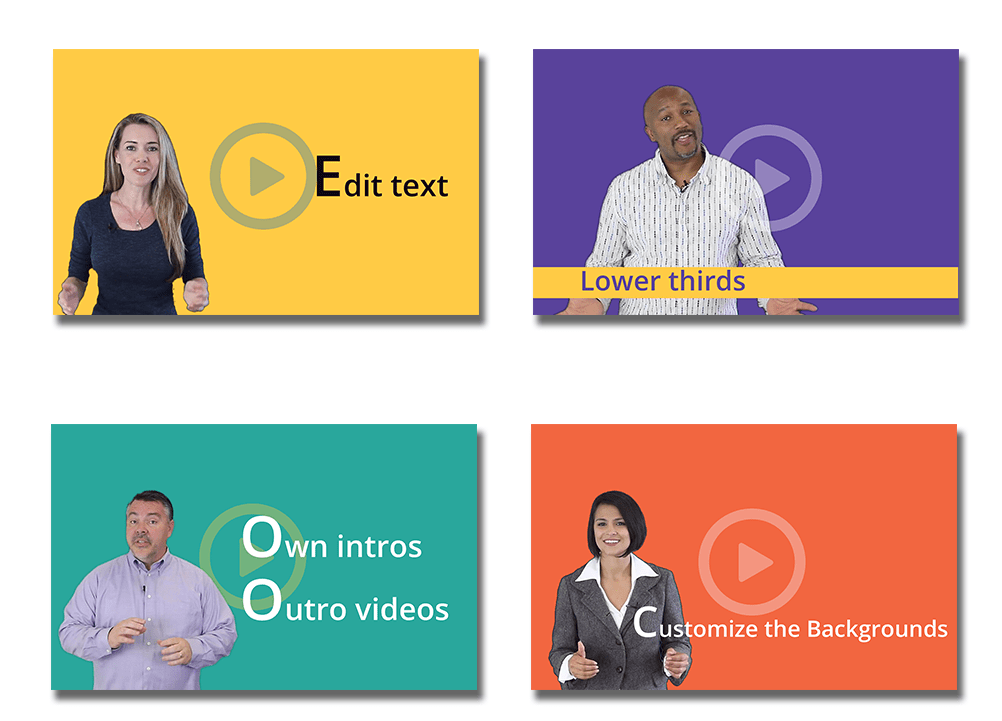 Check EZ Review Video's Capabilities…
– This software is 100% Cloud-Based. Nothing to install, ever
– A wide variety of spokespeople to choose from, including Todd Gross (and Todd is VERY good at what he does as a video presenter)
– Sleek easy-click interface makes editing easy
– Easily add spokespeople, backgrounds, lower third graphics, soundtracks, and more
– Over 80 Spokesperson templates to choose from, across dozens of niches
– Templates cover the hot topics such as making money online, facebook, traffic Generation, local business videos, and so much more
– Backgrounds, lower thirds graphics, soundtracks also included
In many ways this is actually better than the tool i liked so much a few years back, it has more flexibility and more marketing elements built in.
Who Is This For & How Can You Use It?


---
Check Out This Short EZ Review Demo Video
https://vimeo.com/232037629
So What Niches are Covered With Ez Review Videos?
Well there are a lot of niches with the front end offer and even more added to the upsell.
EZ Review Videos List Of Templates
Main Front End Offer Niches Include:
Generic (use for just about anything)

Affiliate Marketing

Make Money Online

Creating and Selling Your Own Digital Products

Email Marketing

Facebook Marketing

Internet Marketing For Beginners

List Building

Video Marketing
Plus Some Website Intro Videos
Regular Ecommerce Store

Internet Marketing Website

Make Money Online Website

Affiliate Marketing Website
And Of Course Local Business Are Covered Too…
Plumber

Accountant

Car Dealer

Carpet Cleaner

Computer Repair

Hair Salon

HVAC

Restaurant

Real Estate
---
For The Upgrade Offer There Are Additional Niches
Network Marketing

Ecommerce

Generating Internet Traffic

Instagram Marketing

Selling On Amazon

Selling PLR Products

Making Money From Facebook Ads

Making Money From Selling T-Shirts
Plus Extra Website Intro Videos
Social Media Website

Creating and Selling Your Own Digital Products

Ecommerce Training Website
And a Ton More Local Business Niches…
Car Repair

Chiropractor

Cleaning

Credit Repair

Custody

Daycare

Dentist

Divorce Attorney

DUI Attorney

Fitness Trainer

Home Remodeler

Landscaping

Italian Restaurant

Laser Eye Surgery

Locksmith

Painter

Personal Injury Attorney

Pest Control

Roofer

Veterinarian

Water Restoration
That's a pretty comprehensive list and for a one time fee…
In Fact it's Over 80 templates!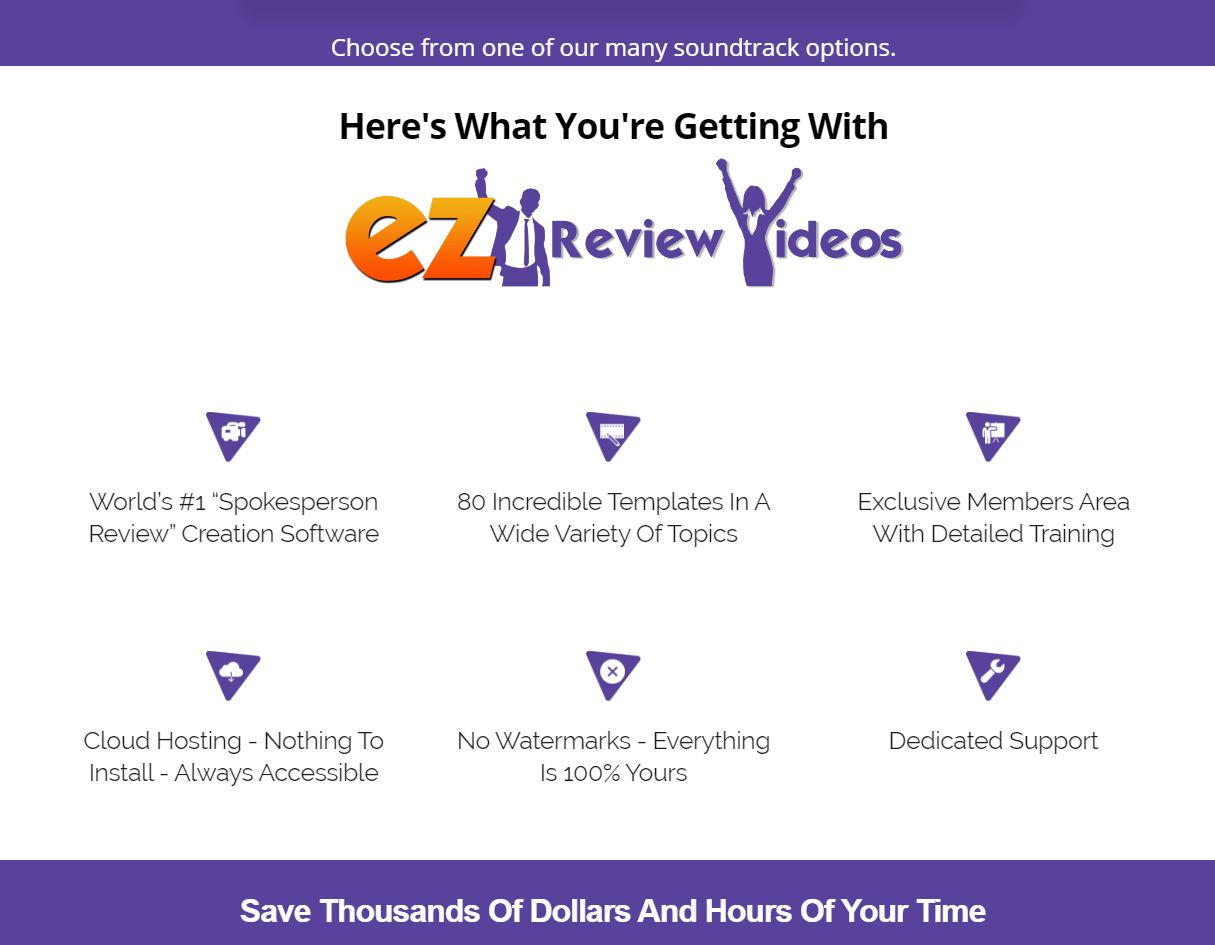 As I am sure you've guessed, the software is extremely flexible and easy to use, but it's how you use it that makes the real difference. Imagine creating a commercial with an honest review or a testimonial supporting what your video is about.
Think about how strong of an impression that could make on someone looking for that information.
It's as easy as selecting a spokesperson template from the library that best fits your "review" video. Instantly, you've added credibility to your video!
They have also added agency license to the front end offer too 🙂
Plus, there is Unlimited review videos that you can create
Here's What Matt's Customers Have To Say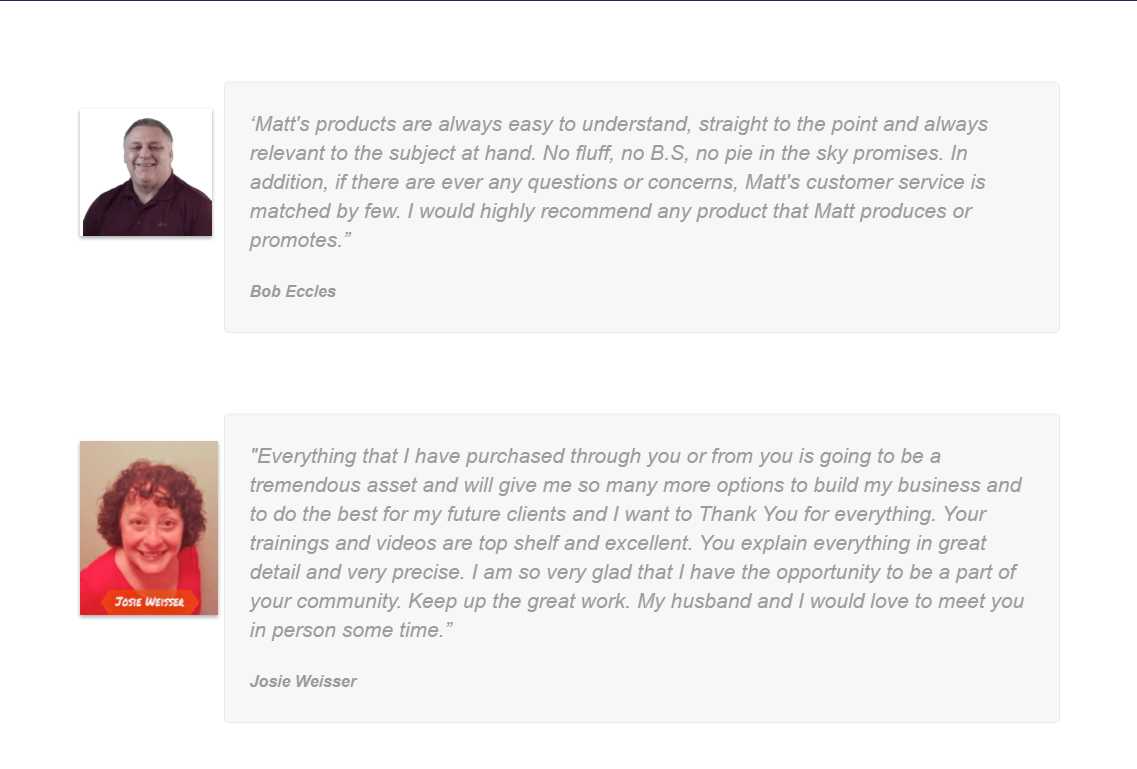 So what does it cost?
Just $27.00! For The Front End Offer
$37 for the first Upgrade
… and $29.95 For The Second Upgrade
[button color="green" link="https://jvz1.com/c/57913/275132″ size="bigger" align="center" font_weight="bold" radius="10″ outer_border="true" icon="momizat-icon-arrow-right"]Click Here To Get Ez Review Videos…[/button]
---
PLEASE NOTE THAT WHEN I DO BONUSES FOR LAUNCH PROMOTIONS, THESE BONUSES ARE ONLY AVAILABLE DURING THE LAUNCH PERIOD.
THE REASON FOR THIS IS, SO THAT I CAN WIN AFFILIATE COMPETITIONS. THEREFORE, I GIVE HIGH VALUE BONUSES. BUT THESE BONUSES ARE NO LONGER AVAILABLE AFTER A LAUNCH HAS FINISHED OR WHEN THE COUNTDOWN TIMER ENDS.