Page 1 Ranking Strategy With 10 Minutes Work
Pros:
Fast & Easy To Do
Modern SEO Strategies For Today
Automated
Don't Need To Understand In Depth SEO
You Need Traffic Scout Alpha (or Video Synd Alpha) PLUS Vid Attack Alpha To Do This Strategy. I used Clipman To Make The Video.
This is a super simple page 1 ranking strategy that works to get both your video and your blog post ranking, a combo ranking factor in other words.
It works because we use some basic SEO principles and its super easy as we automate it.
I start by using a YouTube Video which i created super fast using clipman video maker, then using the same video to syndicate to video sharing sites using Traffic Scout Alpha linking to the YouTube video and finally high click through from search results combined with high retention video views using Vid Attack Alpha.
The high volume links to the YouTube video from the 300 video sharing site accounts is needed to get the YouTube video ranking on Google and stay there and we will reuse these accounts multiple times in future too.
The Vid Attack Alpha campaigns are used to rank the blog post by doing a combination of CTR click through from search engines and high retention video views. It sounds strange but the video views on YouTube will rank the blog post and we have seen this time and time again. In fact we have clients buying multiple licenses for Vid Attack Alpha to add more installs to their VPS and have it running 24/7 getting rankings with very little effort. The key is using high quality proxies and changing them often.
Watch the page one ranking strategy tutorial video to get the exact steps and details
Both Traffic Scout Alpha and Vid Attack Alpha are still available at discounted price for an extra few days and you can reuse this same strategy time and time again.
We will also be offering this strategy as a done for you SEO service later this week, make sure you are on the email list to get more details when we release this service by opting in to any optin form on this blog.
The service will include creating the video to add to YouTube and ideally to your blog post (even temporarily added to blog post), uploading to our YouTube Channel which will have an extensive IFTTT syndication strategy added and syndication to 300 (minimum) video sharing site links to the YouTube video.
We will then run Vid Attack Alpha campaigns starting with long tail keywords until we get rankings for the blog post and then run again for more competitive and higher traffic keywords like i have shown in the page 1 ranking strategy video above.
As with all of our done for you marketing services, the full details will have multiple options for basic and advanced packages for this SEO service and the details of each package will be on the  pricing table.
Want The MindMap Of The Page 1 Ranking Strategy?
I am building a new email list on a new auto-responder service
Subscribe below to unlock and access the mind map & get future tutorials
[et_bloom_locked optin_id="optin_1″]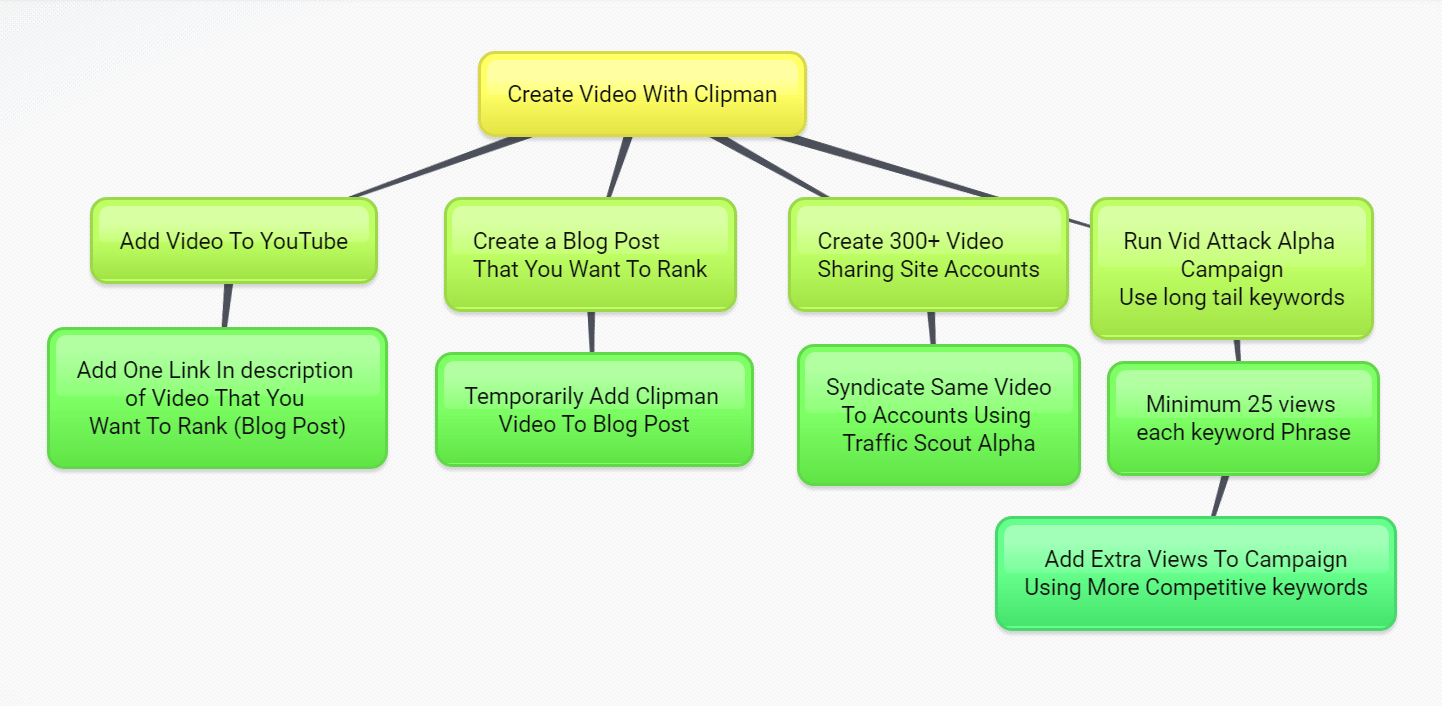 [/et_bloom_locked]
 For more competitive keywords you might want to get some social signals which can be easily done using Vid Attack Alpha "Social Xplosion" tool to get social re-shares such as retweets, likes from Twitter and re-blogs from Tumblr and also re-pins from Pinterest.
On top of that getting real links from real blogs will help too (again we will have a service for this within the next 2 weeks) and i would recommend a high quality press release too which we will also be offering as a service with 400+ links and the PR written for you.
All of our done for you services will appear on one sales page here when the team have been trained and ready starting with the Ranking strategy above.