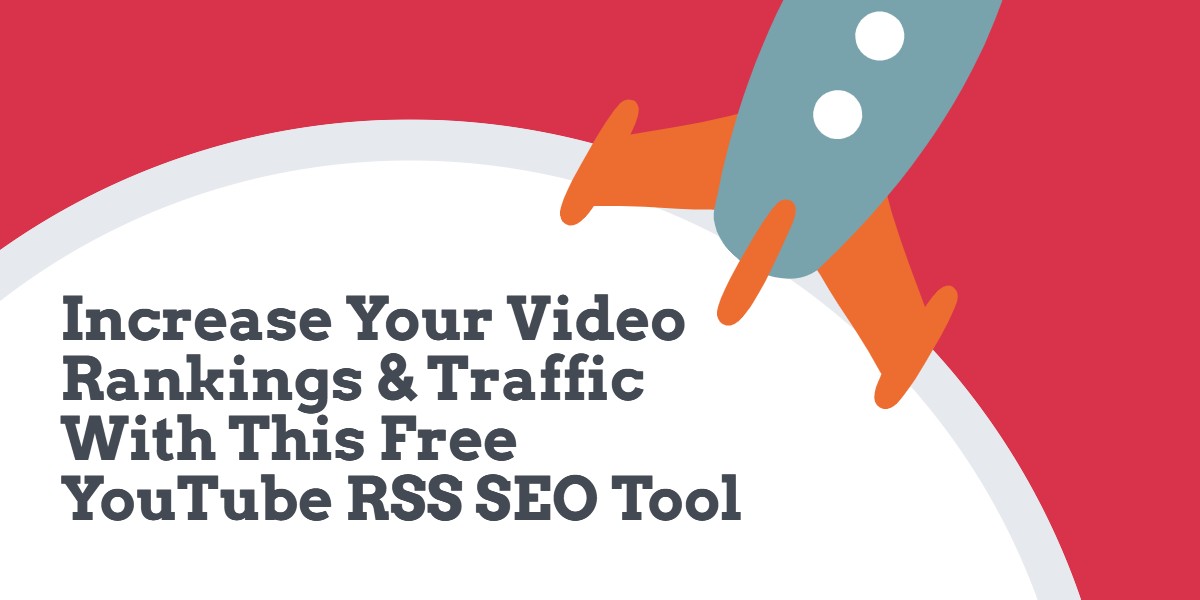 You need to use Google authorization to login and use the Free YouTube RSS Xtreme SEO tool, then you will be asked to verify your email.
[youtube_rss_xtreme_pro]
How To Use The Tube RSS Xtreme SEO Tool
You need to be logged into your Google account to use the Feedburner part of the tool too.
For this to work more effectively try and use the same google account as your YouTube channel.
---
The YouTube RSS Xtreme SEO Strategy
Generates RSS Feeds From Your YouTube Videos
Mashes Feeds With ANY Other Authority YouTube Channel RSS Feed
Piggyback On Authority Channels OR Websites
Submits Mashed Feed To Feedburner
Creates a Unique Feedburner Page With Content From All Feeds
Pings & Indexes Feedburner Link
Creates A Google Doc Too Which You Can Make Public
---
It's Super Easy To Use the Tube RSS Xtreme Tool
Just follow the instructions in the video
---
Additional YouTube RSS Feed Tutorial

[box type='custom' bg='#e8ea5d']The Tutorial below explains how you can generate an RSS Feed from your YouTube Channel. This is NOT needed to use with the YouTube RSS Xtreme Tool above. However i get asked this question often and this seems like a good place to add this tutorial[/box]
How To Generate An RSS Feed For Your YouTube Channel
The YouTube Channel RSS Feed Format Is 
https://www.youtube.com/feeds/videos.xml?channel_id=UCc-v2Y0x848y5bwL1kTHNKg
Replace The YouTube Channel ID (In Red Font) With Your Own You Tube Channel ID
How To Get Your YouTube Channel ID…
Go to your YouTube channel home page to find the Channel ID after the the channel/ in the url like you can see here on My YouTube channel in the screenshot below.
---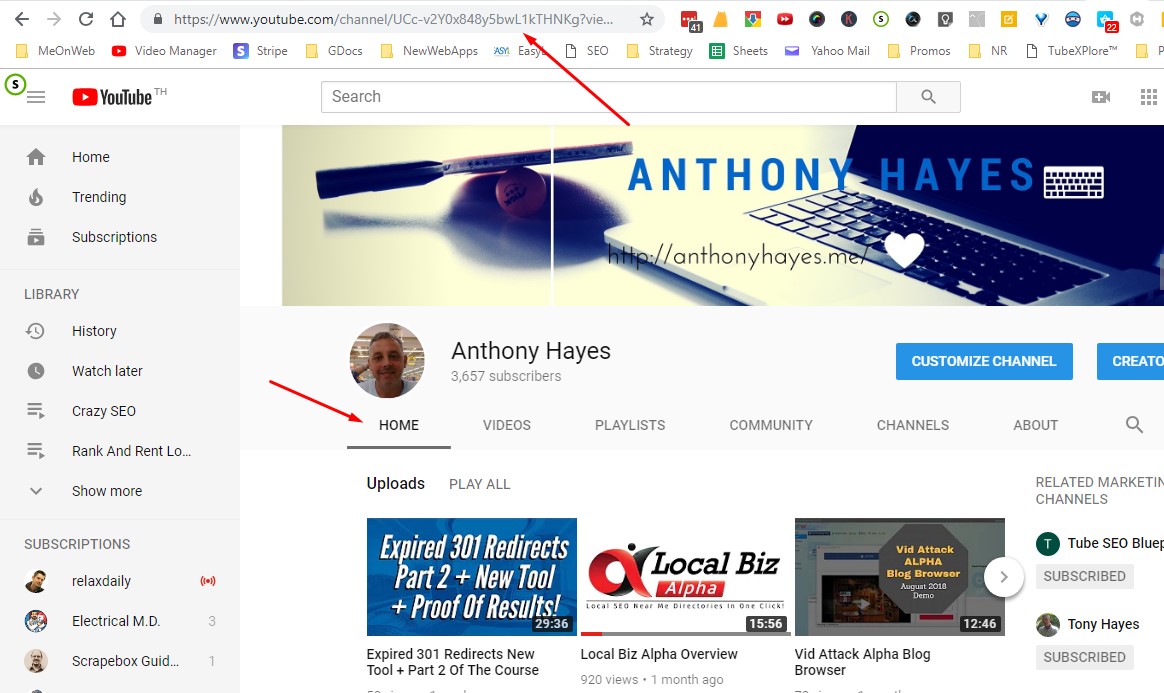 ---
Test The YouTube RSS Feed URL Like This
You should see details of your channel, latest videos and the video description in the feed like shown below in the screenshot.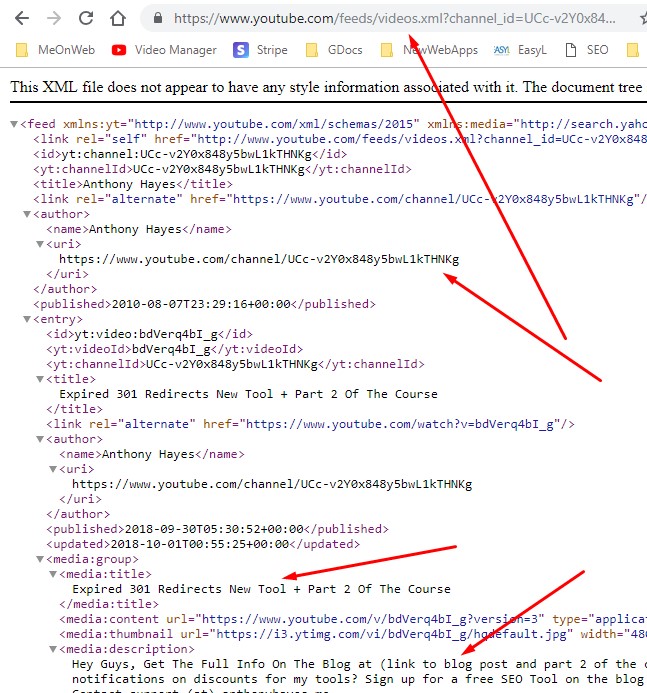 ---
Feel free to use this free YouTube SEO tool as many times as you like!
I Would Really Appreciate It If You Give This Post a Retweet…
It Takes Less Than 30 Seconds By Using The Click To Tweet Button Below!
[click_to_tweet tweet="Free YouTube SEO Tool With Automated RSS Feed Strategy Using Your YouTube Channel RSS Feed, Feedburner And RSS Feed Mashing. Check It Out!" quote="Free YouTube SEO Tool With Automated RSS Feed Strategy Using Your YouTube Channel RSS Feed, Feedburner And RSS Feed Mashing. Check It Out! @TonyHayesTweets" theme="style3″]
If you would like to have your own copy of this tool you can purchase it and offer as a Free SEO tool for your own site visitors. Check Out The Sidebar Under Premium WordPress Plugins For More Details. This tool helps you to bring traffic back to your site and build your email list at the same time.
---
From time to time YouTube may change something with their API, and if for any reason the YouTube RSS Xtreme tool stops working, please connect with us on support immediately and we can usually get this fixed within a few hours.
The support desk can be found from the contact button on the top menu bar.
[social_warfare]