Lets Start With Some New Chrome Extension Lists
(These Are Free Marketing Tools)
Taken From Note Taking Sessions From Top SEO Experts Video Tutorials & Curated The Very Best YouTube SEO Tips Into One Checklist

Its Free, No Cost, Interactive Chrome Extension Checklist
(Step By Step Dollar a Day PPC Recipe)
ONE Cent Cost Per View YouTube Ads That Rank Your Videos Through The YouTube Increased Watch Time Raking Factor
(To Get More Views On YouTube)
More Tips Taken From Note Taking Sessions While Watching Tutorials From The Top YouTube Optimization Experts & Curated Into One Checklist
37 Tools ( And Counting) & DFY Services To Help You Increase Your Website Traffic
99 Short, Clever & Super Effective Tactics To Increase Affiliate Commissions Like a Pro!
Clickbank Affiliate Marketing Checklist For Beginners & More Experienced Marketers.
Lifetime Marketing Discount Deals From AppSumo, Dealify, Pitchground and More!
The Better FREE Way To Build Funnels And Sell Digital Products.
Email List Building Power Hacks, Fast Growth Secrets That Work ,And a Few 'Little Known' Resources
A List of Marketing Tools For SEO, Web Traffic & Conversions
Here's my weekly update for Jun 28, 2020...
RankAttack SEO 2.0 (Lockdown Special Offer)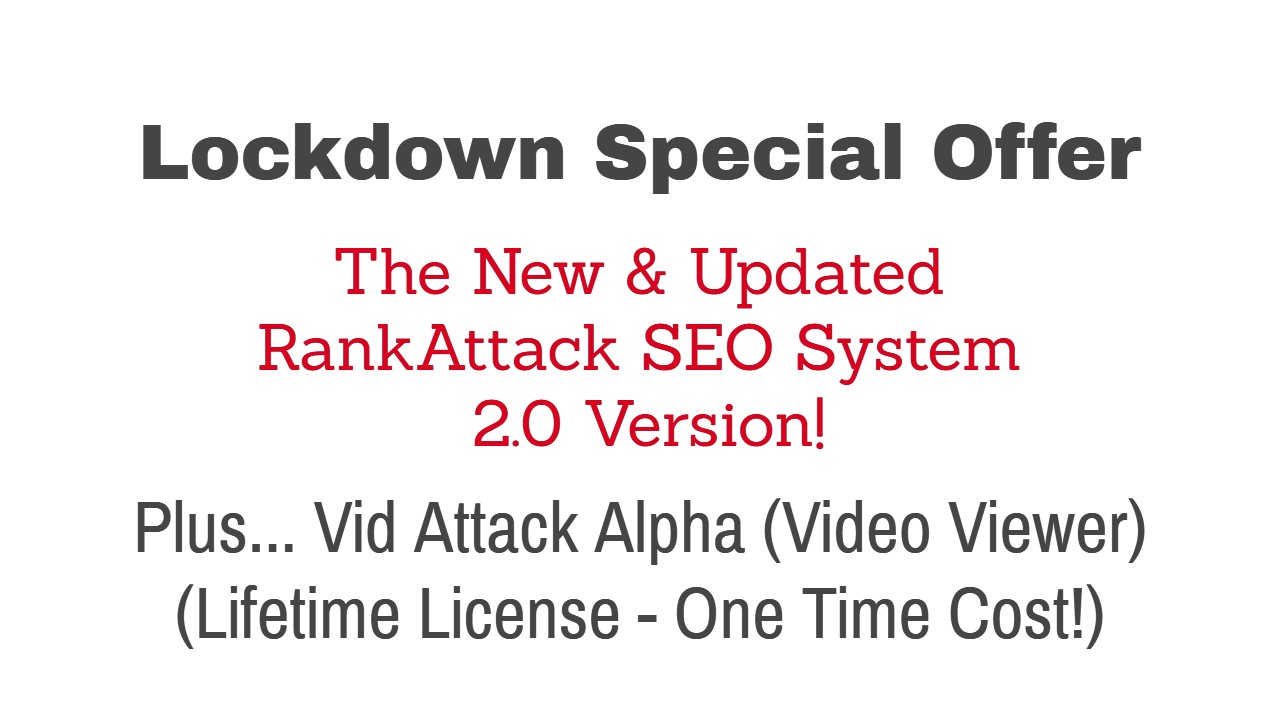 RankAttack SEO 2.0 (Lockdown Special Offer)
Get VidAttack Alpha LITE & RankAttack SEO 2.0
Hey Guys
I'm running a special offer for the new updated RankAttack SEO System which is a 2.0 version (Much More Powerful) and includes a lifetime license for Vid Attack Alpha LITE version.
This is for the video viewer which to be honest is what i use most as this […]
How To Reverse Engineer & Discover Popular Topics In YouTube (Fast)
How To Reverse Engineer Top YouTube Channels and Content Creators in Seconds.
This video is part of a series for understanding the YouTube Algorithm, and how to get more views via suggested video optimization tactics.
Discover 2 ways to find out whats the most popular content for any top you-tuber or channel
Tools used in this video Vid Curate Alpha, VidIQ, TubeBuddy.
Subscribe To My YouTube Channel For:
Tips On Increasing Rankings And Traffic
List Building & Audience Growth Strategies
Regular SEO Tutorials & Learn My Latest New Strategies First
Get Notifications On New Alpha SEO & Traffic Tools
Get Discounts On My Tools (Including Early Bird Discounts For New Software)
RankAttack SEO System 2 0 (Webinar Replay)
How To 'Rank Web Pages' For Competitive Keywords Within Days Using' YouTube Video Views', Even If You Know Nothing About SEO.
This is a webinar replay for the new updated RankAttack SEO System 2 0 version.
You read that right, we do actually rank web pages like blog posts, landing pages, chrome store pages for our chrome extensions by using video views done on youtube.com
Watch the video to learn how.
In This Webinar we covered how to take advantage of User Behavior Signals and the four ranking factors that they provide which are...
How To Add Your Chrome Extension Into Chrome Store Dev Console
How To Upload Your Chrome Extension Into Chrome Store Developer Console
Learn More About LeadBlasta chrome extension builder.
New LeadBlasta User Interface And Features (Demo)
New LeadBlasta Demo:
New User Interface And Features (Demo)
Talk soon
-Tony
#LeadBlasta #AnthonyHayes #RankAttack
Enjoy,
Anthony Hayes